Surgery After a Baby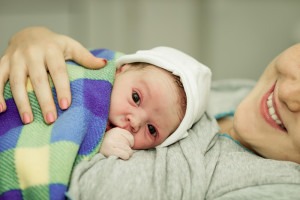 Vaginal cosmetic surgery is a procedure used to tighten up a vagina which has become less taut due to childbirth or age. Many a time after going through a vaginal birth women might feel a little slackness in their vaginal canal due to intense pressure and stretching that the vagina goes through during the time of delivering a baby's head. The tissues lose their original strength which also leads to a decrease in the vaginal sensation during any kind of sexual activity. Vaginal cosmetic surgery in the forms of vaginoplasty and labiaplasty help in repairing and correcting the damaged muscles and tissues and taking care of the aesthetics too.
Vaginoplasty and Labiaplasty
Vaginoplasty refers to surgically tightening the vaginal tissues in order to increase sexual response. It is a term used to represent a group of procedures which constitute vaginal cosmetic surgery. Labiaplasty on the other hand is plastic surgery on the labia. Labiaplasty can be performed on labia major (outer vaginal lips) or labia minor (inner vaginal lips). The surgery is more aesthetic than reconstructive as it typically focuses on making the labia smaller or making the vaginal lips symmetrical.
Post childbirth loosening of the vaginal tissues can lower a woman's self-esteem and impede her from engaging in intimate relationships or getting back to a normal routine. There are specific exercises, mainly the Kegel exercises which are recommended post vaginal-childbirth for getting the vagina back to normal. However, a short surgical procedure may provide quicker and more effective results than the Kegel exercises and not to mention the aesthetic overhauling that adds to the entire healing process.
How long after childbirth can one go in for a vaginal cosmetic surgery?
Childbirth has different effects on different women. The nursing period, the medications that one might be on, and the general health condition are some of the factors that need to be taken into consideration before deciding on going through a vaginoplasty. It is preferable to go for a surgery 3-6 months after childbirth since it will ensure that there is no soreness left and any cuts or lacerations during the childbirth has completely healed.
It is important to consult an experienced and accredited plastic surgeon about the procedure and the expectation that one might have from it. As an experienced plastic surgeon Dr. Paul McCluskey makes sure to answer all the queries and clear every doubt that one might have about the procedure and also set a realistic expectation of what to expect.
Post-surgery care
Like in any other surgery it is extremely important to take utmost care and follow every post-surgery ritual as prescribed by the doctor. After the surgery a little discomfort around the pelvic area is normal and might continue till 2 weeks after the procedure. A little bruising and swelling is also normal and may last a few days after the surgery. It is advisable to wash the area frequently to assist quick recuperation. It is also advised to abstain from any kind of sexual activity for a period of at least 6 weeks.
For more information on procedures and treatments offered by Plastic Surgeon,  Dr. Paul McCluskey and the Plastic Surgery Institute of Atlanta, visit: