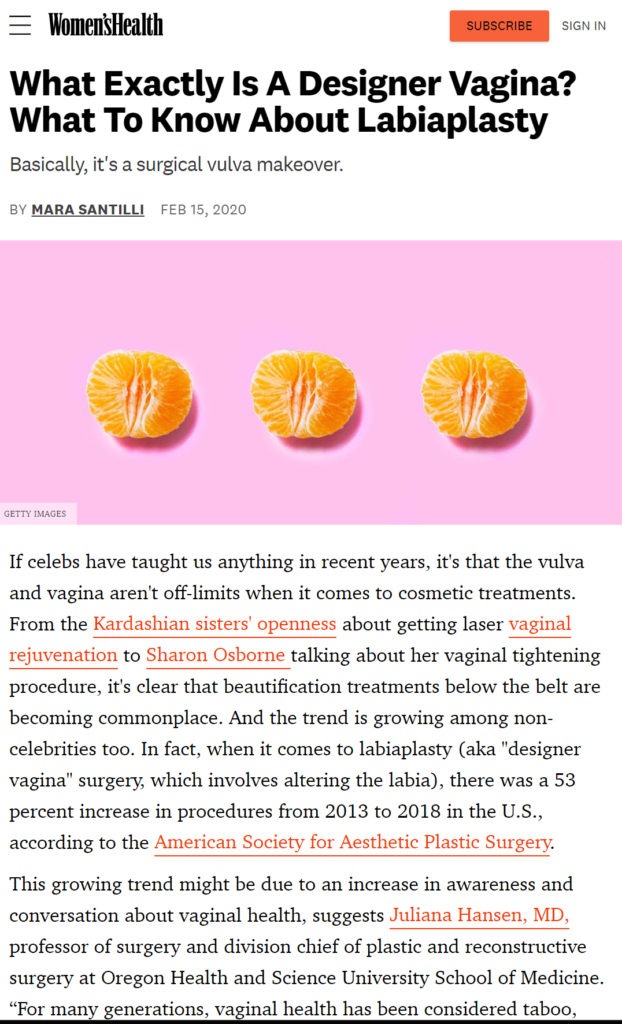 If celebs have taught us anything in recent years, it's that the vulva and vagina aren't off-limits when it comes to cosmetic treatments. From the Kardashian sisters' openness about getting laser vaginal rejuvenation to Sharon Osborne talking about her vaginal tightening procedure, it's clear that beautification treatments below the belt are becoming commonplace. And the trend is growing among non-celebrities too. In fact, when it comes to labiaplasty (aka "designer vagina" surgery, which involves altering the labia), there was a 53 percent increase in procedures from 2013 to 2018 in the U.S., according to the American Society for Aesthetic Plastic Surgery.
This growing trend might be due to an increase in awareness and conversation about vaginal health, suggests Juliana Hansen, MD, professor of surgery and division chief of plastic and reconstructive surgery at Oregon Health and Science University School of Medicine. "For many generations, vaginal health has been considered taboo, and procedures and options for care for female genitalia weren't available," Dr. Hansen says. Read more.
Contact Us to See How You Can Get a "Designer Vagina"
For more information on procedures and treatments offered by Plastic Surgeon, Dr. Paul McCluskey and the Plastic Surgery Institute of Atlanta, visit:
Serving patients in and around Atlanta, Buckhead, Morningside/Lenox Park, Virginia-Highland, Candler Park, Midtown, Inman Park, Poncey-Highland, Ormewood Park, Roswell, Marietta, Georgia and other surrounding areas.