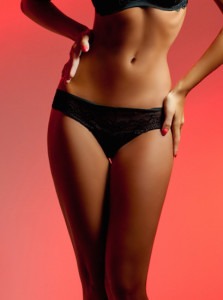 Vaginoplasty is a procedure meant to "tighten up" a vagina that has become loose or slack due to vaginal childbirth or aging. Labiaplasty cosmetic surgery on the labia (the vaginal "lips") can be performed independently or in combination with vaginoplasty.
The surgery can be performed on the labia major (the outer vaginal lips) or the labia minor (the inner vaginal lips). Labiaplasty alters the shape and size of the labia, often making them smaller or creating more symmetry between them.
Plastic surgeon Dr. Paul McCluskey provides vaginal rejuvenation surgery to patients in Atlanta, Buckhead, Georgia, and surrounding locations.
Surgeries Related to Vaginoplasty and Labiaplasty
In recent times, vaginoplasty has developed into a group of cosmetic surgeries promoted as "designer vagina" and "vaginal rejuvenation." Cosmetic surgeons and gynecologists are promoting their own range of designer vaginoplasty procedures, claiming the same advantages to women as other plastic surgeries, such as enhanced self-esteem and confidence.
Female genitals naturally have a diverse range of normal appearances that are anatomically correct. There is no specific "right" look for a vagina or labia. Laser technology has been introduced by some surgeons for "vaginal rejuvenation" as well as other vaginal surgeries to replace traditional surgical procedures.
Various "vaginal rejuvenation" procedures are performed by surgeons with sufficient experience in sexual aesthetic surgeries. Some examples of "designer vagina" and "vaginal rejuvenation" procedures are as follows:
Revirgination
The hymen refers to the thin tissue at the entrance to the vagina. This tissue usually "breaks" the first time a woman engages in sexual intercourse. A cosmetic surgery known as hymenoplasty repairs the hymen to mimic its virginal state, before a woman was sexually active.
Clitoral unhooding
Some surgeons are promoting a procedure known as clitoral unhooding. This procedure excises the tissue that usually covers the clitoris.
G-spot amplification
Some experts believe that the front wall of the vagina is the location for the highly erotic G-spot, which is a particularly sensitive stimulation region for female arousal and orgasm. In the G-spot amplification procedure, collagen is injected into the front wall of the vagina, theoretically to enhance pleasure.
Speak Frankly to Your Surgeon
The best advice for women seek vaginal surgery is to speak frankly with their doctor about their feelings and concerns regarding their genitals as well as their expectation for surgery and any non-surgical alternatives.
Targeted Kegel-like exercises can firm up weak vaginal muscles, for example, and improve sexual arousal. In addition, counseling can address problems related to sexual confidence and self-esteem.
The patient should ask the surgeon the following questions, among others:
What are the short-term and long-term risks associated with the procedure?

What are the potential advantages?

Will I experience a diminished sensation in my clitoris or vagina after the surgery?

Will surgery impact my ability to achieve an orgasm?

Are there any limitations on the use of feminine hygiene products, such as tampons, after the procedure?

What are the non-surgical alternatives for vaginal rejuvenation?
On occasion, labiaplasty may medically necessary. For instance, patients with labia hypertrophy (overgrowth) due to excess testosterone, chronic irritation, or congenital conditions may require this procedure.
These patients may be able to receive medical insurance for their surgery. Plastic surgeon Dr. Paul McCluskey receives patients from Atlanta, Buckhead, Georgia, and nearby areas for vaginal rejuvenation.
For more information on procedures and treatments offered by Plastic Surgeon, Dr. Paul McCluskey and the Plastic Surgery Institute of Atlanta, visit:
Serving patients in and around Atlanta, Buckhead, Roswell, Marietta, Georgia and surrounding areas.